Service Area
Country Cabins will deliver storage buildings up to 50 miles from the dealer's location, free of charge. While our main service area covers mostly Ohio, we will also deliver to parts of Indiana and Kentucky.
If you'd like delivery to a location that's more than 50 miles away from our main location, just contact us and we will try our best to make arrangements for you. 
Keep in mind that we will only deliver structures that are 14x40' or less in size.
Delivery Process
We deliver our structures via mule, a type of forklift. The unit will be slid off of our delivery truck and maneuvered by our mule to its final location. This process allows us to deliver storage buildings safely and efficiently, while preventing damage to your grass or property.
Please note that sometimes we will need to reschedule your structure's delivery due to wet or soggy conditions, traffic, mechanical malfunctions, or other unforeseen circumstances. If this occurs, we will do our best to have the unit delivered to you as soon as possible.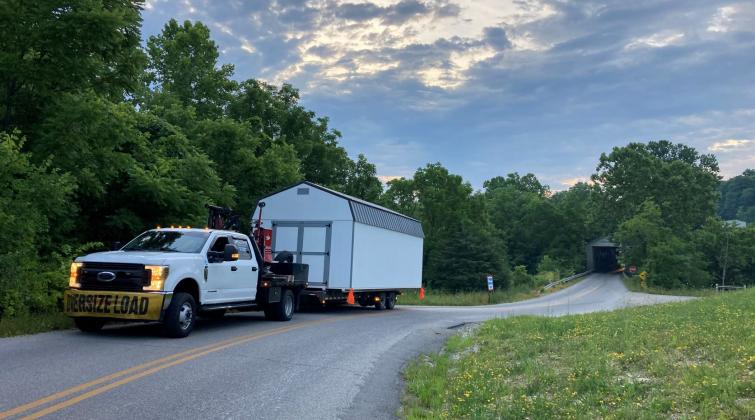 Preparing for Delivery
Before your structure is delivered to you, there are a few steps to take to make sure your site is ready for your unit's arrival:
If your unit is delivered by mule, make sure the path to its final location is 4 feet wider than the width of your structure itself.
If you have fences or anything that may block the path to your structure's location, make accommodations before delivery.
Consider having a local sales specialist inspect your property before delivery to make sure the structure can be delivered to your desired location.
Above all, Country Cabins is committed to safety during the entire delivery process. Whether we're delivering your product 5 miles or 50 miles, our priority is making sure your structure is transported safely.
If you need more information, or have any questions about our products, feel free to give us a call or contact us using our quote form.
Free Quote